COVID-19 Rapid Antigen Lateral Flow Test
Quick and easy lateral flow self-test with digital certificate.
Take from the comfort of your own home and receive results within 12 hours.
When to use our lateral flow tests?
Our rapid antigen lateral flow tests can be used as both pre-departure and UK arrival tests, depending on vaccination status.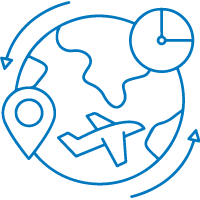 Before traveling from the UK
For entry into certain countries, our lateral flow tests are accepted as a pre-departure test. Take the test from the comfort of your own home and we will provide rapid results with a Fit to Fly certificate.
The following countries accept antigen tests:
Before returning to the UK
Our lateral flow test is approved as "pre-departure" test for unvaccinated travellers entering the UK. Purchase your kit in advance of travelling to avoid the hassle of finding a test provider abroad.
From the 24th of October, fully vaccinated travellers can use a lateral flow test on or before day 2 of their arrival to the UK as an alternative to a PCR. This offers faster results at a cheaper cost, making international travel much simpler!
Approved FlowFlex test kits
We use the ACON Biotech & FlowFlex SARS-CoV-2 Antigen Rapid Test which has passed full assessment by Public Health England and the EU.
Approved for entry into the UK
Approved for use by the EU
CE-marked
Gentle self-swab
98.8% Accuracy
Rapid results
Next-day delivery
We're confident in our rapid antigen travel test service and want you to be confident too. Here's how it works:
Book your lateral flow test online.
Perform your lateral flow test following the instructions in the box.
Upload a photo of your completed test with your passport and our team will verify your result.
Are you ready to travel?
The rapidly changing situation means travel testing can be complicated so it is important to stay up to date with the latest government guidance.
If you are unvaccinated and returning to the UK, you will need to purchase a day 2 and day 8 PCR test as well as the "pre-departure" antigen test.
If you are using our antigen tests to enter another country, make sure to check the travel rules of the destination country before purchase.
We pride ourselves on delivering the best quality customer service possible, responding to any queries quickly and clearly
We pride ourselves on delivering the best quality customer service possible, responding to any queries quickly and clearly.
Delivery of test kits
Once our self-test kits are dispatched by Royal mail we have no direct control over delivery and cannot accept liability for delays. We use a next-day delivery service and delays are rare. However, please order your test kit well in advance of your deadline to take the test.
Suitability of tests for your destination country
As the situation in each country is rapidly changing, the entry requirements for your destination country may change at short notice. You are strongly advised to check the rules before purchasing.
We cannot accept liability for costs incurred if your destination country or airline does not accept our test certificate.